Tips for Organizing Your Laundry Room Like A Pro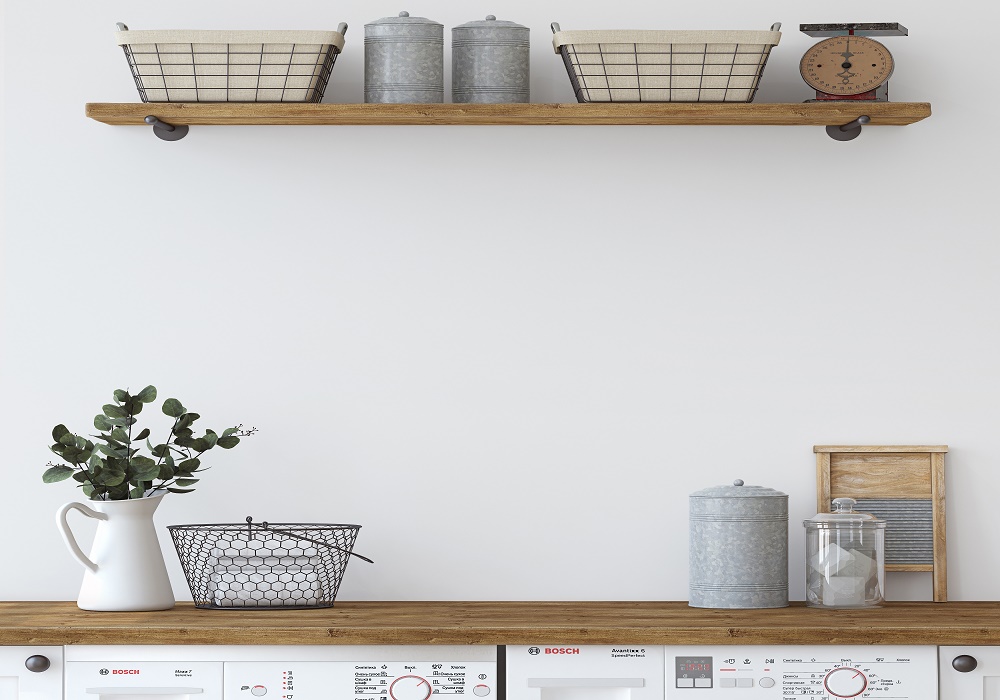 When you think of a laundry room, does your mind immediately think of a stark, undecorated room illuminated by a bare bulb in the basement? You're not alone. But considering how often we all do laundry, why don't we put any care or thought into this room?
It's time to make your laundry room a pleasant place to be. And you're going to start by getting your room cleaned up and organized. Here are our six quick tips to get started.
Keep Supplies Stocked and Ready to Go
There's nothing worse than running out of laundry detergent just as the washer is filling with water. Or scrambling to find the proper stain remover to take on spaghetti sauce on a white shirt. The first step toward having a functional, organized laundry room is to make sure you're fully stocked to tackle anything that comes your way.
Make sure you are ready to go with…
Laundry detergent

Stain removers

Dryer sheets

Scent boosters

White vinegar (perfect for naturally removing stains)

A small repair kit to fix holes or missing buttons
Then, make it a habit to add an item to your shopping list whenever you start running low.
Sort and Organize Those Supplies
Don't throw everything together on a single shelf in your laundry room. Make it easy to find whatever you need right away by keeping those supplies separated and organized. Sort those items by purpose and make sure everything is easily within reach.
The storage possibilities are endless here. You can use…
Clear glass jars

Canisters with lids

Durable bins with handles

Wicker Baskets
Whatever you choose, add a label! Choose whichever storage style fits the laundry room size, your aesthetic, or your household's activity. We don't recommend using many glass jars on lower shelves if you have small kids running around, for example.
3. Set Up A Sorting System 
Are you guilty of sorting clothes on the floor of your laundry room? (It's OK to admit it, we've all been there!) From here on out, you'll never have to do that again. Invest in a sorting system that works better:
Use multiple wicker or plastic baskets to sort clothes.

Get a multi-bin hamper (bonus points if it's on wheels!)

Start using a partitioned laundry basket to sort clothes right away.
Consider using a sorting system that fits in with the style of your laundry room. Remember, you want this to be a nice, comforting place since you'll be using it regularly.
Create a Place for Hanging Out 
A hangout place for clothes, of course. Hanging clothes straight from the dryer avoids wrinkles, but freshly dried clothes rarely make it into closets that fast. Instead, install a rod underneath your cabinets or get a free-standing one to hang clothes up right away.
This solution also works well for any clothes you're washing that can't be dried – or needs to be hand-washed. Just make sure you always keep a set of hangers handy!
Dedicate a Household Lost and Found Area
Lonely socks. Loose change. Bobby pins. Grocery lists. The list could go on of things that end up tucked in pockets and reach the laundry room. Instead of leaving these items lying around, dedicate a space for these discarded objects. We recommend a small basket or bin for this.
Bring Life, Style, and Color to the Laundry Room
This final tip is a bit more open and looser than the others. You're going to be spending a good amount of time in your laundry room (whether you like it or not), so why leave it bare and bland? If your laundry room is open to your kitchen or another room on the main floor, add in design elements that tie it together. If it's in the basement, bring in whatever style you want. Paint the walls, add pops of color with laundry bags or artwork, and get matching storage solutions.
Don't make your laundry room unpleasant to be in just because it's mostly functional. Brighten it up and keep it organized, and you'll never dread laundry day again!  Click here to learn more about our floor plans!