So Many Things to Love in Your Niblock Home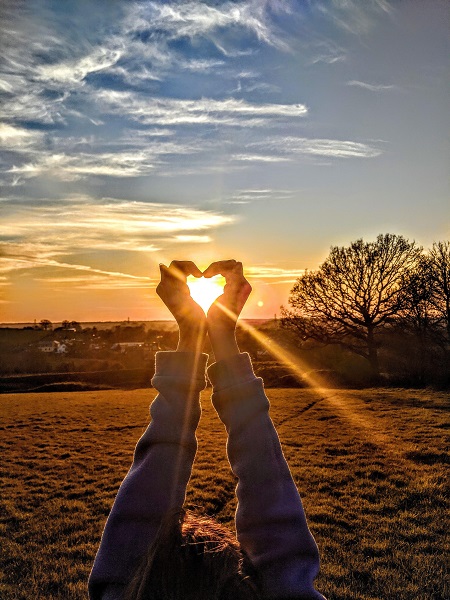 Love is in the air.  February is known as the month of love.  A time for Valentine's Day and emphasizing the importance of love in our loves.  Love of a spouse, a child, a pet, and even your home.
There are so many things for you to love in your new Niblock Home.  The details, the custom touches, the ambiance, and the use of year round spaces, just to name a few.  So to celebrate the month of February, here are some of the most loved design touches that you will find in our homes.
Large Sliding Doors.  One feature that all of our Model Homes have, and majority of homeowners add to their new home, are the large 4 panel sliding doors.  Having the ability to open the sliders all the way, gives your home more useable space, creates a great flow from the indoors out, and it looks fantastic.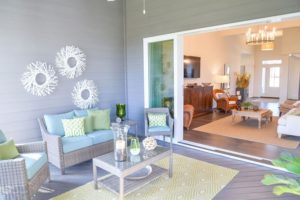 Beautiful night views.   As you walk into your Master Suite, you are greeted by the soft glimmer of the sun beginning to set over the trees, your gorgeous tray ceiling gives off a warm glow, and instantly you feel relaxed and at ease.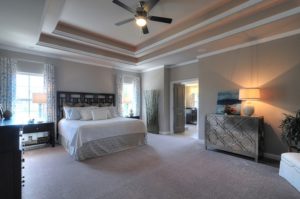 Flex Space.  Many of us need this space now more than ever.  The Flex Space is the room used for all the things we are now doing from home. Like work, school, or it can even be used as a much needed quiet retreat.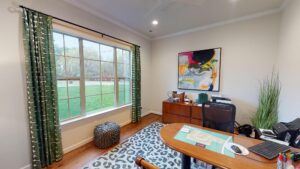 The ability to customize.  Bronze windows, black garage doors, shiplap on your Family Room walls, the ability to create a home that is uniquely yours, is what we strive for.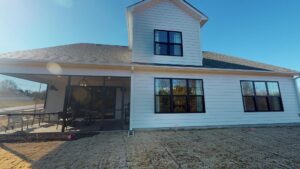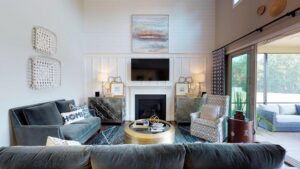 Outdoor living, used year-round.  Your porch might not be used quite as much in the winter months, however, a porch with a fireplace will get year-round use!