In 1979, three brothers with a passion for excellence, assembled a small home-building company poised to meet the demands of a  growing Charlotte area.
Back in 1979, Charlotte was just beginning to transform itself into the world class city it is today. Three brothers with a passion for excellence assembled a small home-building company poised to meet the demands of our growing region. Guided by one important principle – doing business with a sense of stewardship and respect – they strived to create an atmosphere of trust so they would always be proud to put their name on every home they built.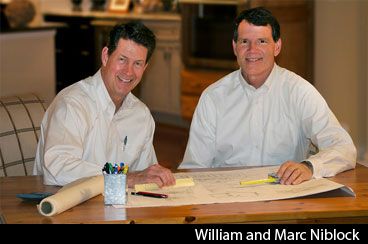 The Niblock Tradition
Fast forward 40 years and 3,500 homes later, we're proud to say we continue to foster that trust and have built our legacy on it. We view each home as an opportunity to improve the Charlotte neighborhoods and communities in which we live.
Niblock Homes started out as a custom home builder. From day one, we have catered to our customers' wants and needs and have continuously refined our home plans and processes.
We focus on the future of the Charlotte region by designing homes to address the lifestyles of today's active families. Our proud heritage is built on a simple formula: Competence, Communication and Commitment.
Competence.
Niblock's culture is based on the principle of individual excellence. Our team has been built to work as one, with accountability guiding each individual task. Home Buyers Warranty awarded us the coveted Diamond Builder award for consistently providing quality, customer satisfaction and innovation. No corner cutting, no empty promises, no exceptions.
Communication.
No relationship can survive without it. Trust is only possible with good communication. All elements of the home building process are carefully executed and openly reported. A personal Niblock representative – a central, highly trained and knowledgeable source for all communication – guides you through the entire experience. This ensures all milestones are met and your home is delivered just as you requested. Period.
Commitment.
Quality isn't just a word to us. Without reservation, we openly promise to source, construct and stand behind all the materials and workmanship that go into every home we build. We believe in the importance of providing EPA Energy Star homes to ensure they are energy efficient, healthy and comfortable.