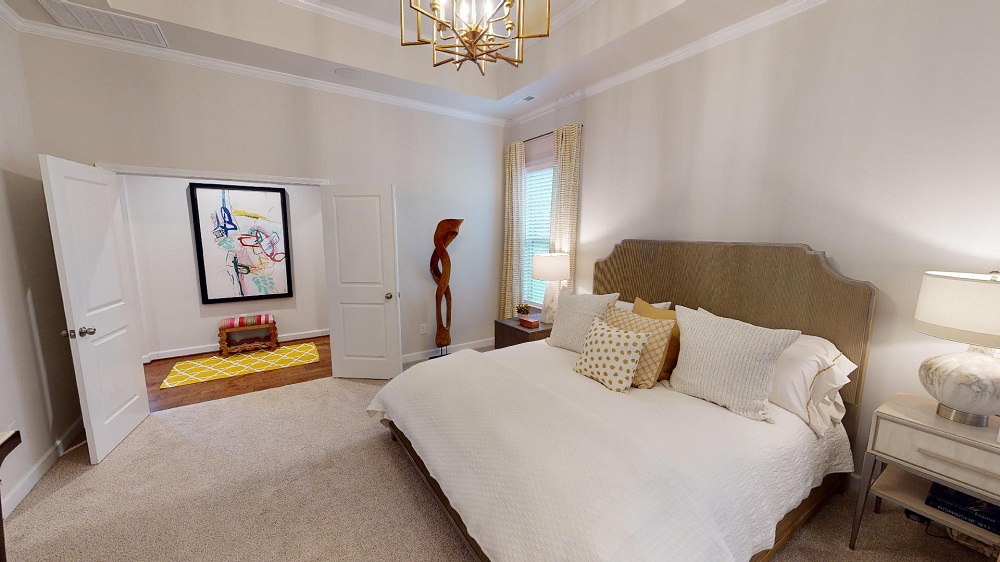 The great thing about your main bedroom is that no two are the same!  Some rooms might include a luxurious spa-like bathroom, while others might prefer to have a loveseat off to the side.  Tackling the sleep aspect of the room is always a great place to start, then you can move on to the other areas!  That's why we've put together a basic checklist of what you'll need to complete this perfect retreat.
They say you spend a third of your life sleeping, right? You better make that sleep count. That's why our checklist starts with your bed and everything on it.
Upgrade your mattress
When was the last time you bought a new mattress? It's recommended that you replace your every 7 to 10 years, but how well have you treated your mattress over the years? Remember, you're putting together a dream room ready for a perfect night's sleep. Consider treating yourself to a new mattress and don't forget the mattress protector!
Mattress
Box Spring
Bedframe
Headboard/Footboard (optional depending on your style)
Dress Up Those Linens!
Does anything feel better than falling asleep underneath brand new, clean sheets? Pick up a new set (or two) of matching sheets, pillowcases, and duvet covers. Look for higher thread count, moisture-wicking fabric for the most comfortable night's sleep imaginable.
Sheets
Fitted Sheets
Pillow Cases
Duvet Covers
Throws or Blankets
Decorative or Accent Pieces
Decorative accessories add a fun splash of personality to your bedroom. Match these pieces to your walls or curtains– go for bold prints or calming colors, whatever feels right for you. Have fun with it, it is your space after all!
Throw pillows
Patterned throws
Different fabric textures
Brighten up your space
 We're talking about bedside table lamps, overhead lighting, and decorative lighting. Continue to tie the room together with lights that match the room and your style.
Bedside table lamps (you'll want two!)
Overhead lighting with soft lightbulbs
Hanging lights above your beside tables
Add in greenery
Add a breath of fresh air to your bedroom with some greenery! Vibrant plants are great for adding color and life to a room. It's wonderful to wake up each morning to a sunny bedroom and a happy plant or two.
Here are some of the best plants to keep in a bedroom:
Peace Lily
Parlor Palm
English Ivy
Snake Plant
Corn Plant
Keep Clutter at Bay!
Nothing brings chaos to an otherwise orderly room than clothes scattered across the floor or draped over chairs. Keep your retreat peaceful and calm by keeping your clothes inline:
Dresser
Armoire
Closet dresser organizer
Closet shelving
We hope this checklist has helped you start bringing your dream bedroom to life!