How to Take Control and Organize Your Pantry Like a Pro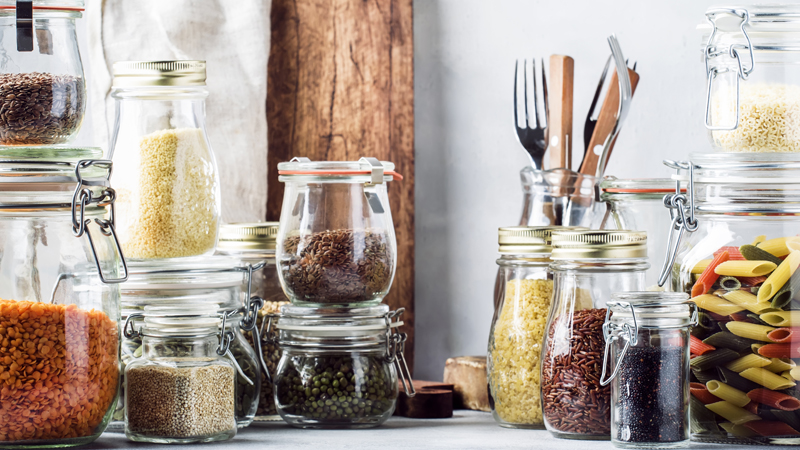 Think quick – do you have brown rice in stock? How about macaroni noodles? After spending time finding a recipe, making a grocery list, and planning out your meal, the last thing you want is to reach for a staple and realize you're out… or worse; you can't find it in the chaotic mess that is your pantry. Don't let this be your reality.
An unorganized pantry is the bane of every cook's existence. And the problem is, it's so easy to let it get out of control. It's time to take back your pantry and learn how to organize it like a pro. Here are a few easy steps you can take right now to tame the chaos and create an HGTV-worthy pantry.
Get a Fresh Start!
Don't just move everything from your old pantry into your new home's pantry because you had it at the last house. When you're packing check expiration dates and get rid of the out of date, open containers, and unwanted items. It is much easier to build your stores of staple items if you know exactly what is usable from the start.
Take Inventory and Keep it Updated
Sit down and make a list of all your pantry staples, whether it's old-fashioned oats, tri-colored quinoa, or packets of ramen noodles (don't pretend you're above reliving your college days now and again). Whatever you use most, put it on the list. Keep track of what's in your pantry and what you're running out of, and add it to your grocery list every time you're getting low.
Categorize Your Food
While all your pantry items are sitting out on your counter, start grouping food by categories. Grains, beans, baking ingredients, and so on. By doing this now, you can add these items to your pantry at once and keep them together, making it easy to find what you need when you need it.
Put it in a Box!
Store your food in containers or bins whenever possible. There are two benefits to this: first, irregular shaped items (packages of chocolate chips, fresh bags of dried rosemary) fit better in a container, and second, it will be easier to move items around to find what you need. Use clear containers to store grains, flour, and other dry ingredients to see what's inside easily.
Hello, My Name Is…
Make it super simple to find what you need by labeling those bins or containers. You'll be able to give your pantry a quick scan to locate whatever it is you're looking for, and you can also take this opportunity to practice your calligraphy. Hand-written labels, printed stickers, or even chalkboard labels add a unique touch to an otherwise bland space.
Hang In There
If your pantry has drawers (or you're using a wide cupboard to store pantry items), make use of the doors. Add a spice rack to the inside of the pantry or cupboard drawers, or attach a thin container to the door. Unless your pantry is extra narrow, doing this will allow you to use every single inch of the area.
Keep It Up!
There are probably a dozen chores you'd rather do than meticulously upkeep your pantry. It's just so easy to shove a half-full bag of lentils or packet of taco seasoning into the depths of your pantry, but that's how you got into this mess in the first place. Stop making excuses and take the time to keep your pantry under control. Regularly take inventory, clean out expired food items, and put things back where you found them. You'll be so much happier if you get into this habit.
It may seem like a monstrous project right now, but start it out in steps. Even just removing outdated & half-used unwanted items before packing up your pantry, makes a big difference when getting your new pantry unpacked. So get started and organize the pantry of your dreams!