How to Organize Your Closet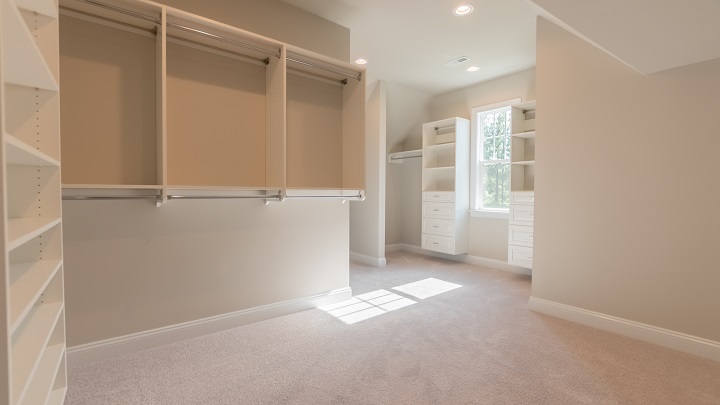 It's like a dream come true: a perfectly organized, clutter-free walk-in closet. We all have fantasies of artfully arranged, color-coded wardrobes tucked nicely into a breezy closet, ready for a cozy night in, a night on the town, or another day in the office. But a lot of work goes into that dream. 
Having the closet of your dreams isn't out of reach. You just need to set up a few basic organization methods and have some will power. We've collected a few introductory tips for making the most out of your walk-in closet below: 
Declutter and Donate 
Rule number one of a brand new, organized closet is getting rid of the clutter. We're all guilty of hanging onto clothes that are worn out, don't fit, or were never our style in the first place. Why let something like that take up valuable closet space? Take a hard look at your wardrobe and start sorting out your favorite pieces from your meh pieces, then donate anything that's still in good shape. You'll feel like a weight has been lifted afterward, trust us. 
Sort by Season, Sort by Use 
You've gotten rid of all the clothes you never wore, don't fit into, or went out of fashion years ago. Now you're left with a great wardrobe ready to be organized. Start by arranging clothes by season – summer, fall, spring, winter – and place them in your closet accordingly. We've got a few tips below to help you organize those. Then, within each season, move the clothes you wear the most (your favorite pieces) to the front of the row so they're easily accessible. 
Go one step further now and sort by color or style. You'll end up with a closet arranged perfectly for the weather, making it easy to pick an outfit and be on your way. 
Double Up to Maximize Space 
Your walk-in closet has a lot of vertical space too — don't let it go to waste. Take advantage of your closet's height by using a double-rod closet organizer. Place an upper and lower bar in your closet, then hang clothes strategically by length and style. For example, keep your blouses, cardigans, and tank tops on the upper bar, and place your pants and dresses below. 
Let Your Clothes Breathe!