Choosing the Right Style for Your Kitchen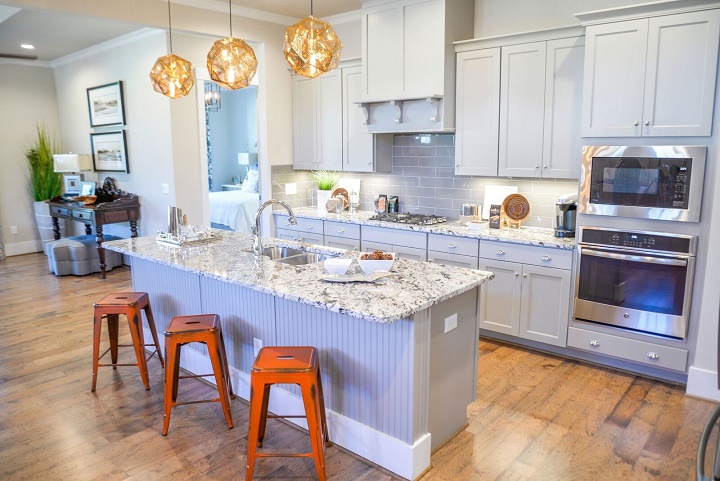 Cabinet color, counter top selection, and the backsplash that you choose for your kitchen, are all big decisions when designing your new home.
Here are several things that you will want to keep in mind when making these design selections at our Studio.
Cabinetry Color
Cabinet color is one of the first things that anyone will notice when walking into your kitchen.   When making this selection, you will want to keep in mind the overall size and how much cabinetry your kitchen will have.  For example our Stratford plan's kitchen is not one of our large kitchens, so using white cabinets in this space is a great way to make this room feel bigger.
Cabinet color can also reflect the overall style that you are trying to achieve in your home.  White has always created a more classic look, while grey while give your home a more modern style.
Countertop Selection
Granite or Quartz, whichever you choose to use, the color will make a big difference in your kitchen.  We recently wrote a blog talking about the difference between Granite and Quartz counter tops, you can find that here.  Educating yourself on the two will help in making your decision, and once you have decided on that, you can move onto the fun part, selecting the color/style.
Deciding on the cabinet colors first will help in selecting your counter top color.  If you have grey cabinets, then you might want a granite or quartz that has more grey or white hues in it.  If you chose dark brown counter tops, you might want to select a lighter color to help balance the space.
Backsplash
The tile backsplash of any kitchen is the final piece that pulls your entire kitchen look together.  It's like the accessories to your outfit, without it your outfit might not feel complete.
There are so many decisions to make when designing your new home.  Having an idea or overall look that you are wanting to achieve will help us in guiding you to the right selections.