Butler's Pantry, Why You Need One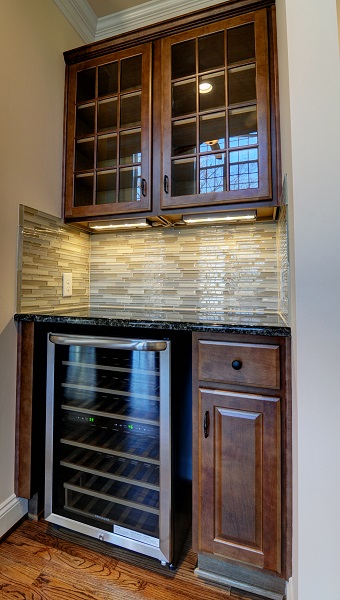 Generally the Butler's Pantry is located just outside of the Kitchen and in close proximity to the Pantry.  The Butler's Pantry can serve several different purposes: a place to prep food that is out of site from guests, a bar where a wine fridge and drink accessories are stored, or even just a gateway between the Kitchen and the Formal Dining Room.  Several of our floor plans include a Butler's Pantry, and of course the option to customize your home and add one is always a possibility.  So here are some different ideas on the look and functionality of the Butler's Pantry.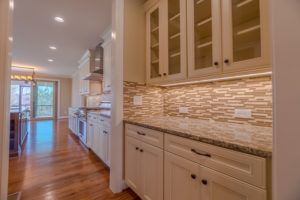 When designing a Butler's Pantry that your guests will use and see, make sure to always include a backsplash!  This is also the perfect spot to add glass to those upper cabinets.  Show off your wine glasses, Moscow mule cups, fine China, or even colorful decor!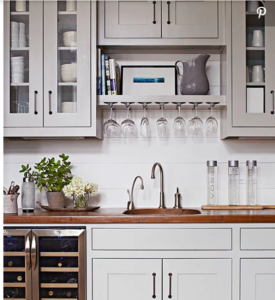 Include a rack to store wine glasses like the one above from Better Home and Garden. This is a great way to free up cabinet space for other items, as well as add character to this space.
A wine fridge is another great addition to your Butler's Pantry.  You can have lower cabinetry removed and the wine fridge installed in its place.
Open shelving, you wanted this feature in your kitchen but you just weren't sure where. This is the perfect spot! You can do painted wood shelves like in the photo above from Better Homes and Garden, or stained wood shelves would look great too!
If space allows, a sink in the Butler's Pantry is a great touch, especially if you plan to prep food in this space!
Adding a Butler's Pantry to the design of your new home will not only give you additional storage and cabinet space, but it will also become a spot where your guests will gravitate towards, especially if there is wine.