What to Do (and Not Do) with Wallpaper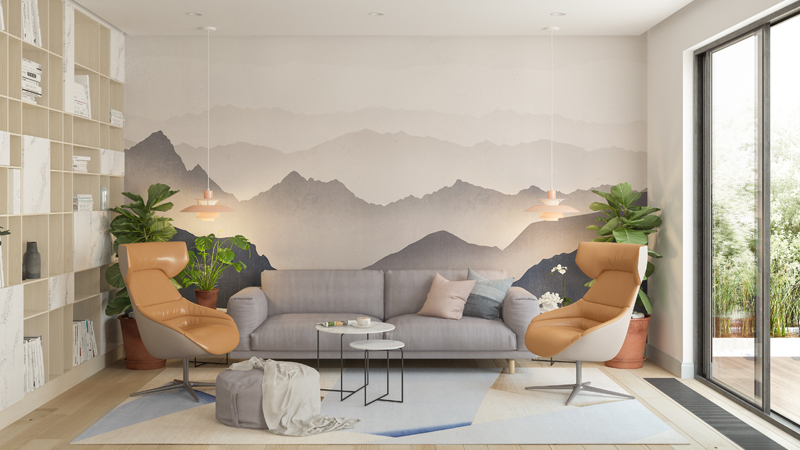 Some things are better left in the '70s, like vinyl jumpsuits and shag carpeting. But patterned wallpaper should not be added to that list. When picturing your dream house, consider adding wallpaper to mix in new design elements and style.
Wallpaper isn't the lifetime commitment you may think. In fact, you can purchase sticker-like removable wallpaper. Wallpaper comes in all forms – bold and subtle patterns, loud and neutral colors, and even in textures like faux fur or crocodile skin.
But there are some things to consider about bringing wallpaper into your home. Here are some basic Do's and Don'ts for planning and installing wallpaper.
Do Be Careful About Patterns
This cannot be stressed enough: Go easy on bold or loud patterns. While this type of wallpaper would be great as an accent wall or backing shelves, it will quickly overwhelm a room. Either choose a subtle, neutral color wallpaper for the entire room or plan on only papering a small area with something bold or bright.
And please, don't mix designs. Too many patterns in a room will look cluttered and make the space seem smaller than it is.
Don't Blindly Buy
You would never paint the walls in your house without testing out the color first (right?). Think of wallpaper in the same way. You may fall in love with a floral pattern in the store, but at home, it might look like your grandma's kitchen. Unless that's the style you're going for, definitely bring home samples to test out. Make sure you look at the sample in natural lighting against your room's furniture and flooring.
Do Avoid Just Jumping In
We get it. You find the perfect wallpaper for your dining room or kitchen accent wall. You're so excited to see it on your walls you can't wait to start putting it up.
But you better pump the brakes unless you want crooked or wrinkled walls for the next decade. Don't rush in unless you're a professional. It's better to wait for an expert to help you install that wallpaper. You'll thank yourself later.
Don't Worry About the Commitment
One of the arguments against putting up wallpaper is that it can't easily be replaced if you get sick of a pattern or get new furniture that clashes. For people afraid of commitment (no shame in that), there's a perfect solution.
You can buy removable wallpaper in a variety of colors and patterns. Think of it as a giant wall sticker. If you ever get sick of a pattern or want to try switching things up each season, this works great. Removable wallpaper is a great way to add a temporary pop of color or style to any room.
Do Plan for the Future
Right now, foxes hiding behind trees may look cute in your breakfast nook. But five years from now, are you still going to love the look? Choose a style that will grow with you and your home. Trendy designs are best kept to wallpaper decals or artwork.
This tip applies both to the design and quality of your wallpaper. Be sure to pick a high-quality wallpaper that will last for as long as you want it on your walls. Unless you love the arduous task of wallpapering a room, you want a wallpaper that looks good for years to come.
The biggest DO of adding wallpaper to a room is not to be overwhelmed. Like picking out furniture or choosing which artwork to hang where, wallpaper is an exciting way to make a space reflect your style. It's a great way to add color or texture to a room, and your options there are endless.