The Kitchen, the heart of the home, where you spend majority of your time, where you entertain, do homework, and of course enjoy a meal as a family.  If we had to choose one room where you spend the majority of your budget, it would be the Kitchen.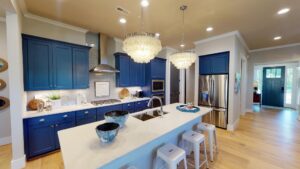 Here are 5 design ideas to add character and appeal to your new Kitchen.
Warm Cabinetry.  While we will always love white, we are seeing more and more people choose a more warm stain on their Kitchen cabinets.  One color that we use quite often is called Husk.  This color also looks great when you mix and match your cabinets with white.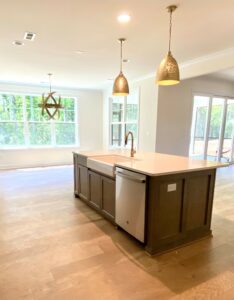 2.  Use metal grates.  Typically you see glass panels used on the fronts of cabinets, but why not try metal instead?  This gives allows for partial visibility while giving your kitchen an edgy look and feel.
3.  Mix different variation's of the same color.  If you love the color blue, try using different tones like Navy, Indigo, and even some greys.  In a previous Model of ours, we painted the interior doors a blue hue, and then we added pops of a brighter blue into this kitchen design.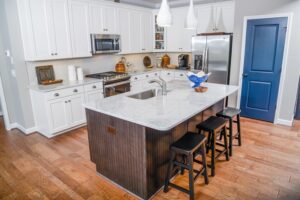 4.  Match your backsplash to your countertop.  For a very clean and cohesive look, continue your kitchen countertop all the way up your walls.
5. Use a fun patterned backsplash. We have seen this bubble look used used on many backsplashes, and we have to agree, it is quite fun to look at it!  This recent homeowner chose the bubble pattern in a more neutral color, and we have also seen this backsplash used in a bright blue which really pops!