Holiday Entertaining in Your New Home!
By now you are already in full on Holiday mode.  The stockings are hung, the tree has been trimmed, and visions of sugar plums will soon be dancing in your head.  Hosting a Holiday party in your home can be both exciting and overwhelming.  Luckily, when you built your new home, you included some very important features to help with the entertaining and the overall flow of your party.
Here is our must "have" list for your new home.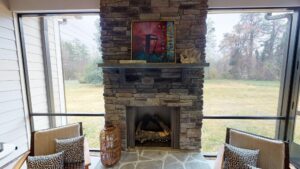 Outdoor/indoor entertaining:
For starters, it gets hot when you entertain.  Extra bodies, the oven is on, you are running around nonstop, all of these factors are bound to add a little more heat to your home.  Having the ability to open sliding doors can help keep your home cool, while also giving your guests another space to gather.  And covered porches are the perfect gathering spot.   Rain or shine, wind or snow, having your porch covered will create that 4 seasons room that you never knew you needed.  Now if you want to take your outdoor entertaining to the next level, add a fireplace on your screened-in porch.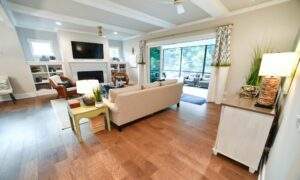 Wet Bar for entertaining:
Your countertops are used to prep the food, your kitchen island is used to serve the food, now where do you pour the drinks?  Having a wet bar is great addition to any kitchen.  Plus, there are some great features to add to any wet bar as well.  A wine fridge for example, is a great add-on feature that is great to have around the holidays.  Adding extra cabinets above your wet bar will also create additional storage, and who doesn't love or need that?
A Drop Zone:
The first thing that your guests do when they arrive is take off their coats.  Having a Drop Zone or a designated place for all your guests to hang their coats will keep your home more organized and make it easier on your guests.  It is also a great place for women to store their purses.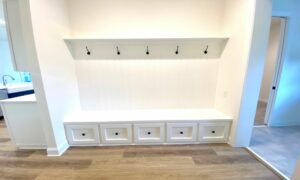 An oversized laundry room:
The one thing that can add up quickly with overnight guests, laundry!  Extra towels, sheets, etc. all are part of the package when it comes to hosting guests.  A large laundry room with countertops for folding, cabinets for storage, and a sink can help elevate the extra work.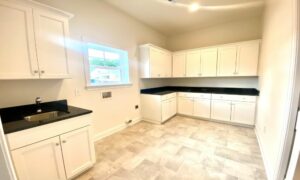 A guest bedroom:
We don't mean your son's bedroom turned into a makeshift guest room, but a true guest suite.  A place that your guests can go for privacy and to feel like they have their own retreat while staying with you.  Also having their own personal bathroom is always a bonus.