Design Ideas in Our New Model Home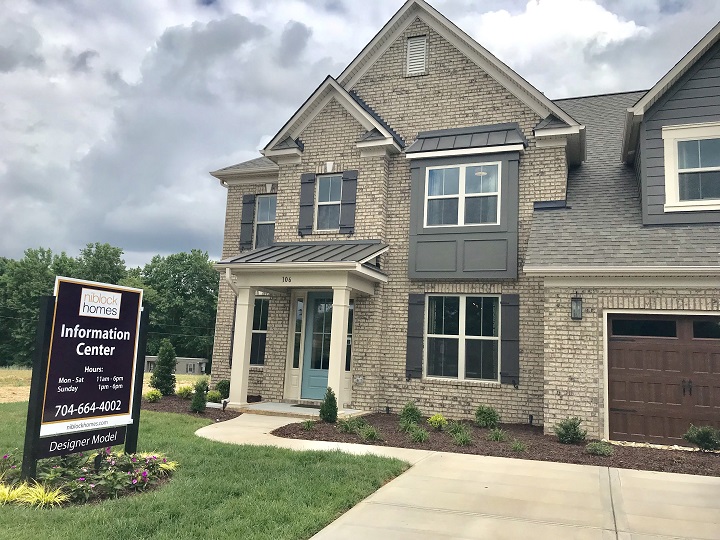 We try to incorporate new design details and ideas into each of our Model Homes.  It is always fun and exciting when we get to build a new Model, and we love to showcase the latest design trends.  From painted interior doors to bold paintings, here are 7 design ideas that we have incorporated into our Brookside at Ashlyn Creek Model.
 Bold Paintings:  Our designers made sure that this new model was filled with new fun and bold paintings.  The paintings add pops of color throughout the home while adding a great conversation piece to any room.
Accent and Feature Walls:  In the 2-story Family Room of our Model, we chose to do an accent wall from floor to ceiling.  Above and around the fireplace we added board and batten molding, and above that we placed ship-lap all the way up to the ceiling.  If you are a fan of HGTV's hit show, Fixer Upper, then you know exactly what ship-lap is!
Painted Doors:  Why let all the exterior doors have all the fun.  Painting your interior doors is a great way to add a pop of color throughout the home.  We have added this design element in several of our model homes, but this is the first time that we have used the color Navy!  Every single door in this home has been painted, even the sliding closet doors!
 Tiled Shower Detail:  Instead of using the same tile throughout the entire shower, we decided to add a vertical strip of a different tile for some added contrast.  This is such an easy way to add that "wow" factor to your master bath.
Bead Board Island:  It might be hard to tell on the photo above, but on the sides of the kitchen island we have added a bead board design.  Adding different textures to an otherwise flat surface, is another great design idea for any kitchen island.
Corner Glass Cabinet:  We doubt anyone keeps all of the kitchen cabinets organized enough to have them on display, but we bet you have at least 1 cabinet that you might like to show off.  By adding glass to the corner upper cabinet, it not only breaks up an otherwise long strip of all white, but it also gives you the chance to show off those fancy dishes that you got for your wedding present.
3 Panel Slider:  The ability for indoor/outdoor entertaining is popular this time of year.  Having a 3  panel slider will allow your Family Room to double in size and flow onto your screened in back porch.