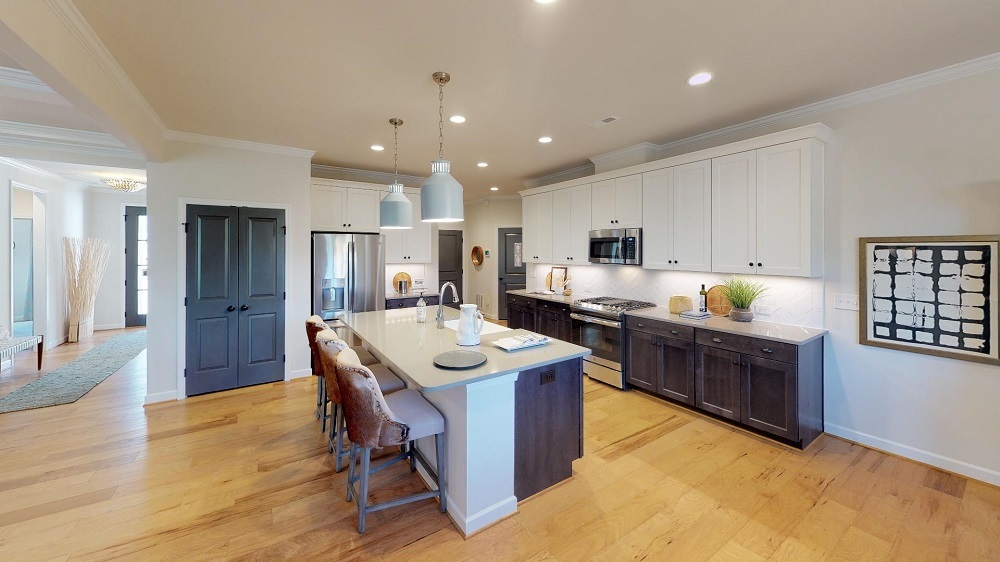 It doesn't take big structural changes to truly make your home your own, and customizing your home can look different for each homebuyer.  Selecting the backsplash, adding cabinetry in your kitchen, removing or adding a closet, etc. are all examples of custom changes that we encounter daily at our Design Studio.
Here is just one example of how we work with our homebuyers to customize their homes (or the kitchen in this case).
The first photo is our Harper Model Home's kitchen.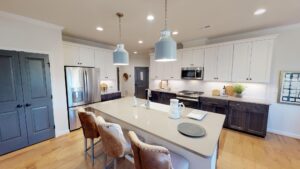 Below is the same floor plan's kitchen, just customized to fit the needs of the homebuyer.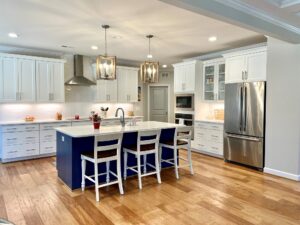 Here are some of the main differences in the 2 kitchens: 
-The Pantry was removed.
-A Butler's pantry was added by sliding the refrigerator down and into the pantry's previous spot.  This made room for 3  additional drawers and the glass upper cabinet.
-Pullout drawers were added to the entire kitchen instead of cabinet doors.
-Bead board was added to the front of the island to match the Indigo blue color.
-A metal hood was added over the cooktop.
-The microwave was moved and is now located above the oven.
These simple changes are just a few ways that we help homeowners customize their new homes.  Our floor plans are always great starting points, but they don't necessarily have to be the end result.