Creating Zones in Home with Flooring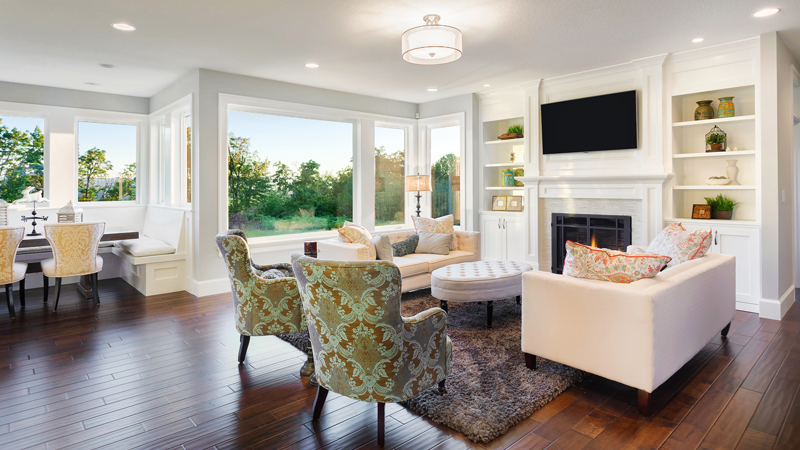 It's a question interior designers get asked all the time. How do you create zones in an open floor plan? For homeowners without walls, this can be a real problem. How do you keep your home from feeling like one single room?
By learning a few design tricks, you can completely mitigate this issue. Instead of an expansive, flat room, you can transform your open floor plan into an elegant, bright space set apart by different zones.
Pros and Cons of an Open Floor Plan
There are many advantages to open floor plans. Without interior walls, sunlight travels throughout the entire level. It feels brighter and more open than other floor plans with walls separating rooms, which helps you flow from one area to another.
Without careful planning, however, the open floor plan can quickly lose its character and feel flat. Instead of separate areas – kitchen, dining area, and living room – it feels more like a giant room with different furniture and appliances on each well. That's not what you're going for.
Let Your Floor Guide You
But there's an easy solution for this. You can separate each space, or zone, with different flooring to transition from one area to the next. By choosing different flooring materials, you can either set out a sharp contrast or make it more subtle. And you don't have to break the bank with this either.
Creating Zones With Different Flooring
Make the separation between different zones clear with different flooring materials. If you have tile or hardwood floors in your kitchen, try adding carpet to your living area. These divisions help separate the open floor plan without the same oppressiveness of walls. It can also be fun to choose different colors or patterns from one zone to the next.
Subtle Transitions
Maybe you're not looking for a sharp contrast between your kitchen and living room. Blending flooring from one tone to another is a subtle way to create zones in your home. For instance, you can use different stains or tones of wood or vinyl. This smooth transition from one area to another is more can also be reflected in your furniture. Play around with this idea by adding similar elements or accent colors from one area to the next.
Separate Spaces with Rugs
If your home has already been built with the same flooring throughout your open floor plan, don't despair. Creating zones doesn't have to break the budget. Instead of choosing different flooring materials or colors, add a rug. Your options are literally endless – with unique textures, colors, and patterns to add flair to your room. What's great about rugs is that you can easily change them going forward. The same can't be said about different flooring materials.
Open floor plans draw in beautiful sunlight and better airflow and can help bring unity to a space. Keep it from feeling like one giant room by using flooring to create distinct zones. Be as subtle or bold as you like!