Choosing the right outdoor furniture
The days are longer, the days are warmer, and sweet Summer time is just around the corner! For many, now is the time to get outside and start updating those outdoor living spaces.
Here are some tips on how to choose the right outdoor furniture for your home.

Let your outdoor furniture be an extension of your Family Room.
  Is the style of your home more traditional or farmhouse?  Do you have a coastal vibe or more of a mountain lodge feel inside your home? Whatever the style is inside, be sure to carry that outside as well.
Always go for comfort.
Just like you want your Family Room sofa to be comfortable and inviting, you want the same for your outdoor furniture.  Make sure you sit and try any and all seating before making a commitment.  Also don't forget you will always want a soft spot to prop your feet up on.
Durability.
Keep in mind where you will be putting your outdoor furniture.  Will it be under a covered porch or out in the open?  If your outdoor area is uncovered, make sure you buy good quality pieces that will be able to withstand all types of weather.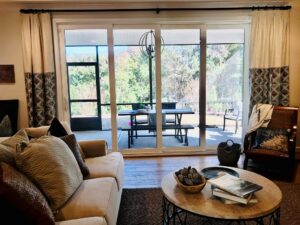 Function.
Do you envision this space to be used as an outdoor dining space, a comfortable place to sit and relax, or maybe a mix of both? If you have the space for both, try to break up the areas by using an outdoor rug.