How to Organize Your Walk-In Closet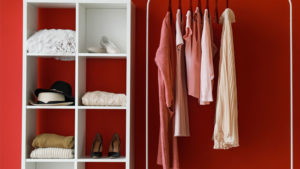 It's like a dream come true: a perfectly organized, clutter-free walk-in closet. We all have fantasies of artfully arranged, color-coded wardrobes tucked nicely into a breezy closet, ready for a cozy night in, a night on the town, or another day in the office. But a lot of work goes into that dream. 
Having the closet of your dreams isn't out of reach. You just need to set up a few basic organization methods and have some will power. We've collected a few introductory tips for making the most out of your walk-in closet below: 
Declutter and Donate 
Rule number one of a brand new, organized closet is getting rid of the clutter. We're all guilty of hanging onto clothes that are worn out, don't fit, or were never our style in the first place. Why let something like that take up valuable closet space? Take a hard look at your wardrobe and start sorting out your favorite pieces from your meh pieces, then donate anything that's still in good shape. You'll feel like a weight has been lifted afterward, trust us. 
Sort by Season, Sort by Use 
You've gotten rid of all the clothes you never wore, don't fit into, or went out of fashion years ago. Now you're left with a great wardrobe ready to be organized. Start by arranging clothes by season – summer, fall, spring, winter – and place them in your closet accordingly. We've got a few tips below to help you organize those. Then, within each season, move the clothes you wear the most (your favorite pieces) to the front of the row so they're easily accessible. 
Go one step further now and sort by color or style. You'll end up with a closet arranged perfectly for the weather, making it easy to pick an outfit and be on your way. 
Double Up to Maximize Space 
Your walk-in closet has a lot of vertical space too — don't let it go to waste. Take advantage of your closet's height by using a double-rod closet organizer. Place an upper and lower bar in your closet, then hang clothes strategically by length and style. For example, keep your blouses, cardigans, and tank tops on the upper bar, and place your pants and dresses below. 
Let Your Clothes Breathe! 
Wire closet organizers are great for storing clothes in a closet you'd rather keep folded. The benefit of these wire shelves is that you can let your clothes breathe and avoid the musty back-of-the-drawer smell. Many organizers like this are customizable, so you can sort and stack them however you want to best fit your organization preferences. 
Reach for the Sky 
Use every inch of space in your walk-in closet — all the way to the ceiling. You undoubtedly have a few items of clothing or accessories (an extravagant Easter hat perhaps or a bright pink faux fur coat, perhaps?) that you hardly use but need to store. 
Keep them out of the way by putting them on high-up shelves at the top of your closet. Place this extra row of shelving closer to the ceiling, above your double-rod closet organizers. Now you can store those important-but-often-ignored items you can't bear to part with. 
Add Storage 
One of the best things about a walk-in closet is that there's often room to move around. However, the downside of that is there can be a lot of wasted space. Use the space below your clothing rods or on an unused wall to arrange a dresser or small cupboard to store additional clothing items that may not fit on your clothing rods or shelves. Here's a great decorating opportunity; add elegant style or a splash of color with this piece of furniture. 
Get Hooked on Hooks! 
There's never a great place for purses in a closet. You can't hang them up, and they just get cluttered and disorganized piled on a shelf. You've got the wall space now, so use it! Hang decorative hooks on the walls of your closet at different heights to hang purses, bags, or even jackets you don't want on a hanger. 
You can even make a smaller version of this for your jewelry! Hang small hooks near a mirror in your bedroom or closet and you've got a place to store your necklaces tangle-free. 
Take a Deep Breath, Get Organized, and Live Out That Fantasy 
A perfectly arranged and organized walk-in closet isn't out of reach. By following these few basic tips for organizing the structure of your closet, you'll be there in no time. Just remember to keep sorting through clothes on a regular basis, donating what you don't wear and recycling what's too old to keep. You'll end up with a perfect wardrobe suited to your current tastes in a de-cluttered walk-in closet.